About Thassos Island
Thassos or Thasos is the most northerly of the Greek islands. it's part of the Aegean group and offers a quiet and relaxed atmosphere. The island is relatively unspoilt by tourism whilst still offering all the amenities that a tourist requires.
Getting to Thassos
Unfortunately Thassos doesn't have its own airport, the closest airport is Kavala on the mainland. From Kavala airport head to Keramoti port and take the short 30 minute ferry ride to the island.
Another route is to fly to Thessaloniki airport, the flights are usually a bit cheaper but as it's further away from Keramoti port you'll probably need to allow an extra couple of hours to make the drive.
It's also possible to drive from Thessaloniki airport to Kavala port which reduces the drive but the ferry from Kavala port to Thassos takes longer and costs more so the choice is yours.
Who would like Thassos?
Thassos is recommended for those who like quiet and relaxing breaks, young families and couples will likely be more than happy here but the island may be a bit too quiet for teens or twenty somethings looking for late nights and partying.
Thassos has Golden beach which is arguably one of the best beaches in Greece, with soft golden sand a wealth of facilities and gorgeous waters, if you like beach holidays then Thassos could well be for you.
Current Weather in Thassos
5°
clear sky
humidity: 75%
wind: 2m/s NW
H 10 • L 9
Weather from OpenWeatherMap
Above is the current weather in Thassos as well as the 5 day forecast.
Below are our Thassos climate graphs. Like all Greek islands, Thassos is perfect for a summer holiday with pretty much all day sunshine and although it rains more than some of the southern islands there is still minimal rain throughout the summer months.

Best time to visit Thassos
Any time in the summer months from late May to early October would be fine for a trip to the island. June, July and August are the busiest times and the later in the year you leave it the warmer the seas will be. If you want a bit more peace and quiet then try to go just outside of the school holidays it'll be quieter with less young families but still good weather.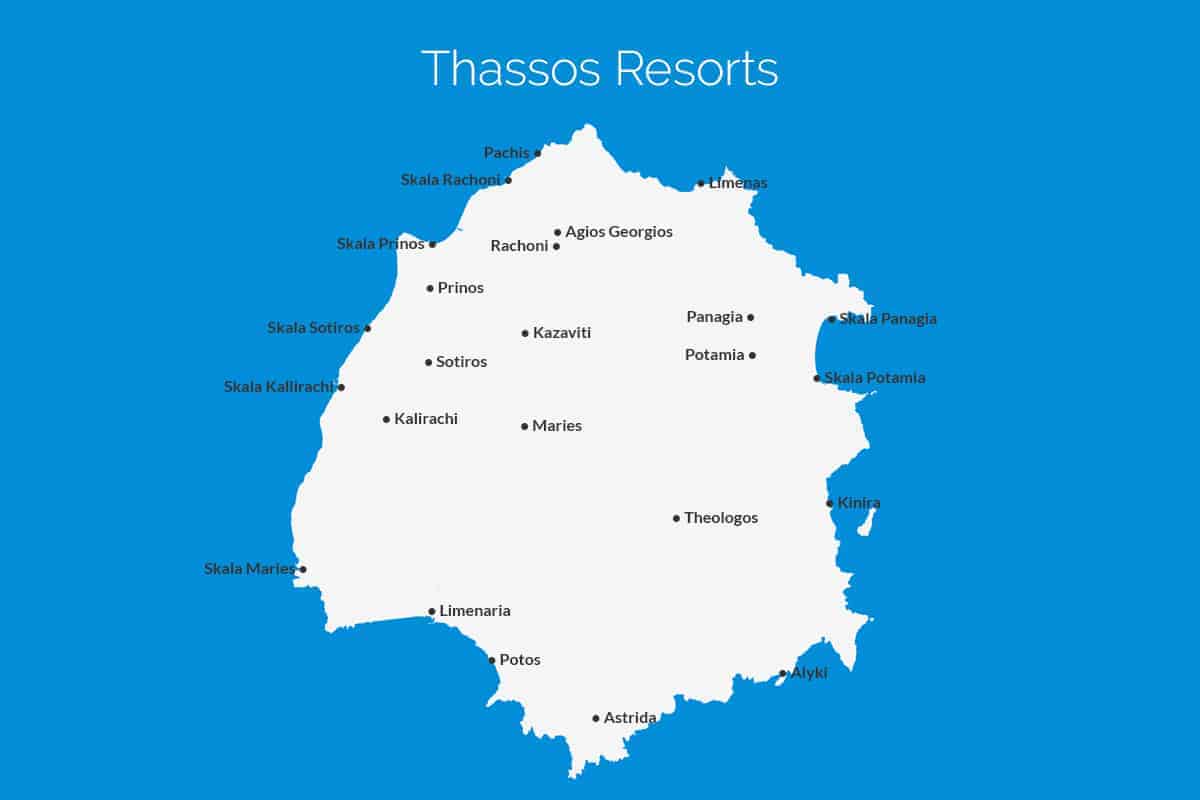 The main resorts on Thassos are Limenas, the capital, and Limenaria on the south coast. The lovely little village of Panagia is well worth a visit as well and Kazaviti up in the hills is great for an evening meal.
Click the button below to be taken to the Thassos resort guide where you can find out more about the individual areas.
Most people would say that Golden beach is the best on the island with its long stretch of soft sand it's perfect for kids and adults alike. There are also good beaches all over the island including Alyki which is gorgeous but busy and Limenaria on the south coast too.
For a more in depth look at the lovely beaches of Thassos click the button below.
Thassos doesn't have a massive variety of attractions to keep you entertained, there's no water park and not much in the way of historical sites although there is the ancient Agora in Thassos town and the natuaral rock pool of Giola on the south coast is worth a visit.
Click the blue button below to go to our Thassos sight seeing guide to find out more about the attractions on the island.
Thassos is generally a laid-back island where the evenings are spent in a restaurant or bar around one of the harbors or on the seafront. There are a couple of lively bars and a nightclub in Limenas but nothing too boisterous.
Tell your friends and followers about Thassos
If you're going to Thassos or thinking about going then why not tell your friends about it using the links below? You never know what insights or advice they may have to offer.
Alternatively you could just show off about what a great trip you have planned.
Partner sites relating to Thassos
If you'd like your site considered for this section then please use the
contact page
to get in touch with us.
More Related Content