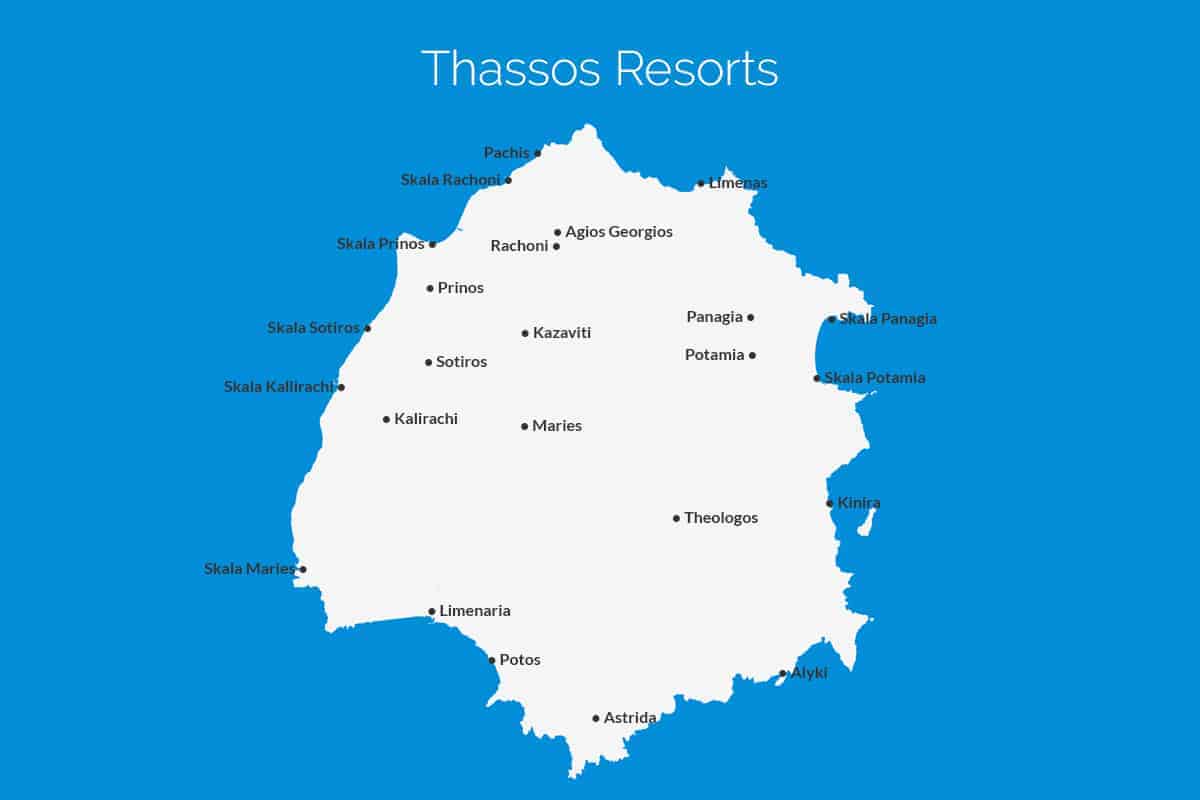 The Which Greek Island resort guide to Thassos gives you a list of towns, villages and resorts in Thassos and describes them telling you where they are on the island, who would enjoy them, if it's just a day trip or a place to spend a week and what the nightlife is like too. It is meant for anyone planning a trip to this beautiful Aegean island to help them decide where to stay and where to visit whilst on holiday.
The map above should help you to decide where you want to stay, you can use it to see where the towns and villages are on the island, how far apart the places you want to visit are or simply to work out the rough transfer time from the main port in Limenas.
Tourist resorts in Thassos
The busiest tourist resorts in Thassos are the capital Limenas and the south coast town of Limenaria as well as the area around Golden beach which is Skala Panagia and Skala Potamia. 
Limenas is probably the best choice if you want the hustle and bustle that the capital has to offer, if you want a beach holiday then stay close to Golden beach as you can't beat it. Limenaria offers good amenities including a charming port area with loads of tavernas.
Family resorts in Thassos
The best family resorts are probably Skala Panagia and Skala Potamia as the beach is soft golden sand and perfectly safe for kids to enjoy and there's plenty of other amenities too. Potos is another popular option for families as it too has a great beach with water sports that will keep your youngsters entertained whilst you relax.
Traditional Thassos resorts
Although Thassos embraces tourists, it hasn't yet been spoiled by them, the towns and villages inland are all traditional and worth a visit. Panagia is a great choice and home to a natural spring and a gorgeous square that's a beautiful spot for a nice relaxing lunch.
Thassos resorts for couples
Thassos is the ideal island for couples, and all the islands resorts would be perfect. there's beach holiday locations, traditional villages to wander round hand in hand and entertaining night life for the evenings too. Which town or village you decide to stay in will depend on what you want from your Greek island holiday.
We've listed below the main resorts on Santorini, all you have to do is click the heading of the ones you're interested in visiting and that'll take you to a new page with a more in depth look at that particular town or village.
Alternatively click the filters to narrow down the list of resorts to just those that have particular characteristics that you find desirable. The filters are cumulative so if you find that you've clicked too many and ended up with no results then simply remove one of the options that you have chosen or click the All button and it'll reset everything so you can start again.
Filterable list of Thassos resorts
Tell your friends and followers about Thassos
If you're going to Thassos or thinking about going then why not tell your friends about it using the links below? You never know what insights or advice they may have to offer.
Alternatively you could just show off about what a great trip you have planned.
We want Which Greek Island to be as accurate and informative as possible, so, if you notice anything wrong with the Thassos resort guide or any other page please let us know.
There may from time to time be places on an island that we've missed completely so if you see a town, village, beach or attraction that's not listed then please use the contact us page to let us know and we'll get it added to the site.
We're also on the lookout for great photos to show people what the places we're describing are like. If you have photos from any of the resorts in Thassos or from any of other island on the site then we'd love to see them, simply click the button below to go to the photo upload page. Thanks.