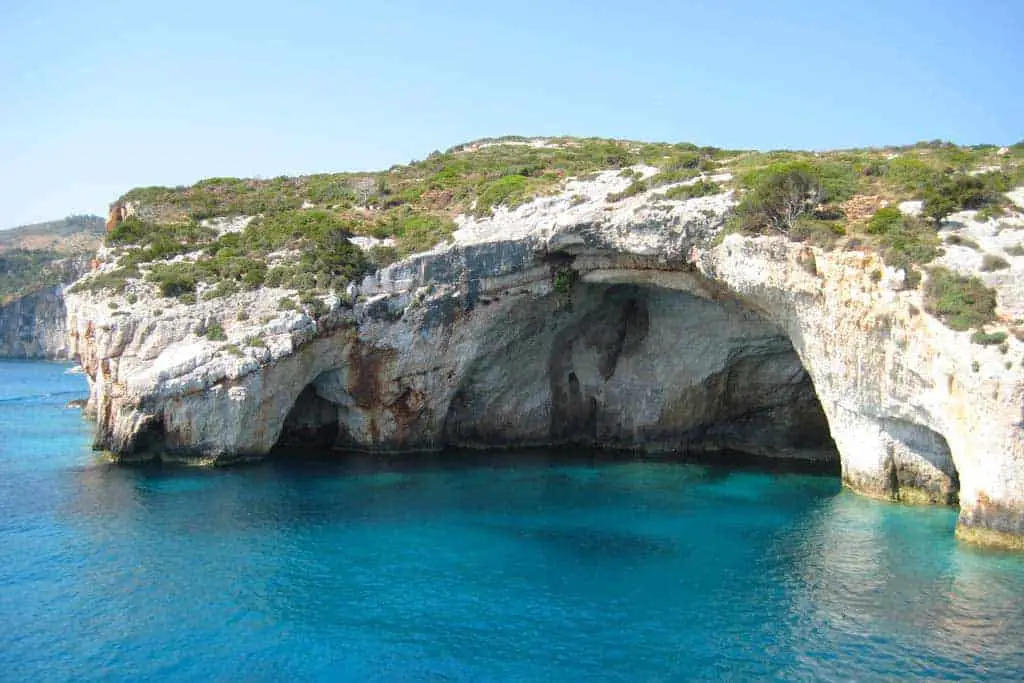 What are the Blue Caves Like
The Blue Caves lie on the northern tip of Zakynthos island, just below Skinari Lighthouse. The blue caves are over 35km from the islands capital which usually takes about an hour to drive.
The caves were discovered in 1897 by Antonio Komouto and they welcome thousands of visitors every year, venture inside these rocky crags for incredible swimming, snorkelling, and scuba diving in the vibrant, turquoise waters.
Once inside the caves you'll see the sun light reflecting of the Ionian sea and glistening back of the white cave walls, this is where the name Blue Caves comes from.
The town of Volimes makes a good base if you'd like to visit the caves multiple times, but for most tourists these legendary caverns are a once-in-a-lifetime experience.
You'll be hard pressed to find a beach on Zakynthos that doesn't offer boat tours to the Blue Caves, just make sure the one you go with has the option to go inside the caves as some boats are too big and stop outside.
You don't just have to arrive by boat, there are steps down from the Potamitis Windmill where you can get into the sea and have a swim around, just take care and keep an eye on the weaker swimmers in your group.
With such convenient options for visiting this top Greek island attraction, you'd be crazy to miss it.
Quick look guide to Blue Caves
No Reviews yet
Unfortunately we don't have any reviews for Blue Caves, if you've been, why not be the first.
If you would like to share your thoughts on Blue Caves with our visitors then please fill in the form below to send them to us.
If you have photos from Blue Caves that you would like to share please use the form below to send them to us.
Go to the Zakynthos resort guide to find out about the great towns and villages on the island.
Go to the Zakynthos beach guide to find out about some of the best beaches on the island.
Find something to keep you entertained whilst in Zakynthos with our Zakynthos sight seeing guide.
Go back to the main Zakynthos guide to find out more about this lovely Ionian island and what it has to offer.
Find info on another Greek island, whether that's to hop from Thassos on a day trip or to research an alternative destination.
If you're going to Zakynthos or thinking about going then why not tell your friends about it using the links below? You never know what insights or advice they may have to offer.
Alternatively you could just show off about what a great trip you have planned.
We want Which Greek Island to be as accurate and informative as possible, so, if you notice anything wrong with this listing about Blue Caves or any other page please let us know.
There may from time to time be places on an island that we've missed completely so if you see a town, village, beach or attraction that's not listed then please use the contact us page to let us know and we'll get it added to the site.
We're also on the lookout for great photos to show people what the places we're describing are like. If you have photos from Blue Caves or from any of the other places on the site then we'd love to see them, simply click the button below to go to the photo upload page. Thanks.