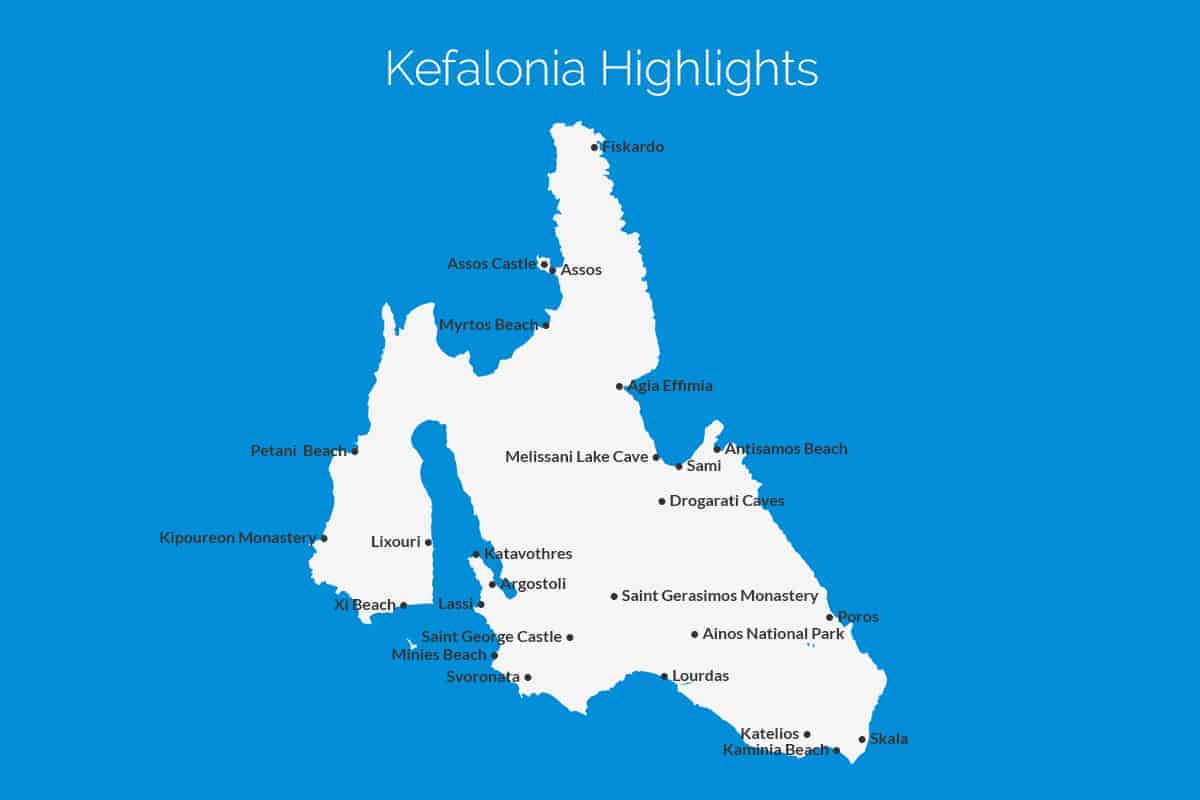 About Kefalonia
Kefalonia or Cephalonia is the largest of the Ionian islands in western Greece. The capital of Kephalonia is Argostoli. Most of the island was destroyed in the 1953 earthquake with only Fiskardo in the north being undamaged.
Due to most of the islands towns and villages being rebuilt after the earthquake some people would say that Kefalonia doesn't have the same "authentic" Greek feel to it that some of the other islands do. It also doesn't have ancient sites to visit and explore like some of the other islands do.
That said, Kefalonia is regularly in the top 10 lists for best Greek island for a reason, it has crystal clear waters, lots of vegetation which isn't always the case on other Greek islands and plenty of natural beauty spots to visit from the stunning Myrtos beach to the awesome Melissani Lake Cave.
Kefalonia was the setting for the movie Captain Corelli's Mandolin so if you've watched that film and thought how beautiful the island looked then this is the place for you. Most of the filming took place in Sami with the camp site of the Italians based on the beach of Antisamos bay.
Getting to Kefalonia
Getting to Kefalonia is simple as the island has it's own airport, the Flight time from London to Kefalonia is about three and a half hours non stop, flight times from other airports around the UK will be roughly the same give or take 10 minutes. As it's such a popular destination with us Brits there are multiple direct flights from all major airports every week throughout the summer months. Kefalonias airport code is EFL.
Best Time to visit Kefalonia
The best time to visit is early or late in the season, the mass crowds arrive around the middle of June and it stays busy until the end of August, June to August is also the hottest time of year and temperatures can get in to the 30s which can be too hot for some so if that's you we'd advise visiting early or late, or both!
Current weather in Kefalonia
Current Weather in Kefalonia
16°
scattered clouds
humidity: 67%
wind: 6m/s ESE
H 18 • L 17
Weather from OpenWeatherMap
Kefalonia climate Information
Top 3 resorts in Kefalonia
In our opinion the three resorts that most people should consider when thinking of a holiday to Kefalonia are, Lassi, Skala and Argostoli.
Argostoli
For those that want the bigger town feel and busier nightlife, with the harbour front tavernas and restaurants as well as the late night bars and a couple of clubs keeping you entertained well into the evenings, there's no beach but you aren't far from the Lassi beaches.
Lassi
Not to everyone's tastes but it's close to the best beaches and is a good location for travelling the island so as long as you don't mind the fact that it's made for tourists and lacks a bit of character then it's a great place to go.
Skala
With a little more character than Lassi but the beach isn't as good, it has a lot of other facilities and if you just want to enjoy a relaxing break with everything on the doorstep then there's no better place.
If those 3 don't take your fancy then click the button below to go to the full Kefalonia resort guide where you can filter all of the towns and villages based on amenities like if it's on the beach, if it has nightclubs, if it's a picturesque or traditional place and many more options.
Top 3 beaches in Kefalonia
Our top three beaches in Kefalonia Are the gorgeous Makris Gialos, Myrtos and the beach at Skala.
Makris Gialos
The soft sands, top quality facilities, crystal clear waters and the superb location close to the ever popular resort of Lassi make this probably the most widely used beach on the island.
Myrtos
We couldn't really have a top 3 beaches in Kefalonia without including Myrtos, it's a picture postcard of a beach, particularly when viewed from above. You'll probably need a car or a tour to get there but it's worth the effort.
Skala
Finishing up our top 3 is Skala, similar to Makris Gialos in that it's very popular due to the local resorts popularity, it also has great facilities and it's huge so no problem with overcrowding.
If you're looking to visit some of the more obscure or lesser known beaches whilst in Kefalonia then click the button below to go to the full Kefalonia beach guide where you can use the filters to find the best beaches to suit your tastes and preferences.
Top 3 attractions in Kefalonia
Kefalonia doesn't have a huge wealth of historical sites like some of the other Greek islands but it does still have some fantastic attractions to keep you busy throughout your stay. That said, our favourite sight seeing destinations in Kefalonia are the stunning Caves of Melissani and Drogorati as well as well as the castle of Saint George.
Castle of Saint George
Although there's not a great deal to do at the castle of Saint George it does offer unrivalled views over the island and neighbouring islands too on a clear day.
Drogorati Caves
The Drogorati caves are group of caves made from limestone and with stalagmites and stalactites, they are close to Melissani so you can easily do both in one day.
Melissani Lake Cave
At Melissani you get a guided boat tour on the lake that takes you through the amazing rock formations and shows you the large chamber where the roof collapsed and sun light creates beautiful blue patterns all over the cave walls.
To find out more about the other tourist attractions and sight seeing destinations on the island click the button below. You can then filter the list to find the perfect places to keep you entertained on your holiday.
Kefalonia Night Life
If you want a lively night out with bars and clubs then you will have to head to Argostoli as this is the only resort that has anything close to this, I still wouldn't expect anything like what Falaraki or Kavos have to offer but there's certainly some late night drinking to be had. The next most lively resorts are Skala and Lassi but these certainly aren't for clubbers.
The Nightlife in the rest of Kefalonia revolves mainly around bars rather than clubs, Kefalonia is most popular with couples and families so if your plan is to go for a nice meal, relax by the harbour or beach, stroll round the streets and maybe have a few cocktails or some local wine before bed then this is definitely the place for you. Go to Argostoli and sit at one the restaurants around the squares and soak up the atmosphere, take a walk up the Lassi 'strip' and stop off for a pint of Mythos on the way. This is a slow paced island and should be enjoyed that way.
Tell your friends and followers about Kefalonia
If you're going to Kefalonia or thinking about going then why not tell your friends about it using the links below? You never know what insights or advice they may have to offer.
Alternatively you could just show off about what a great trip you have planned.