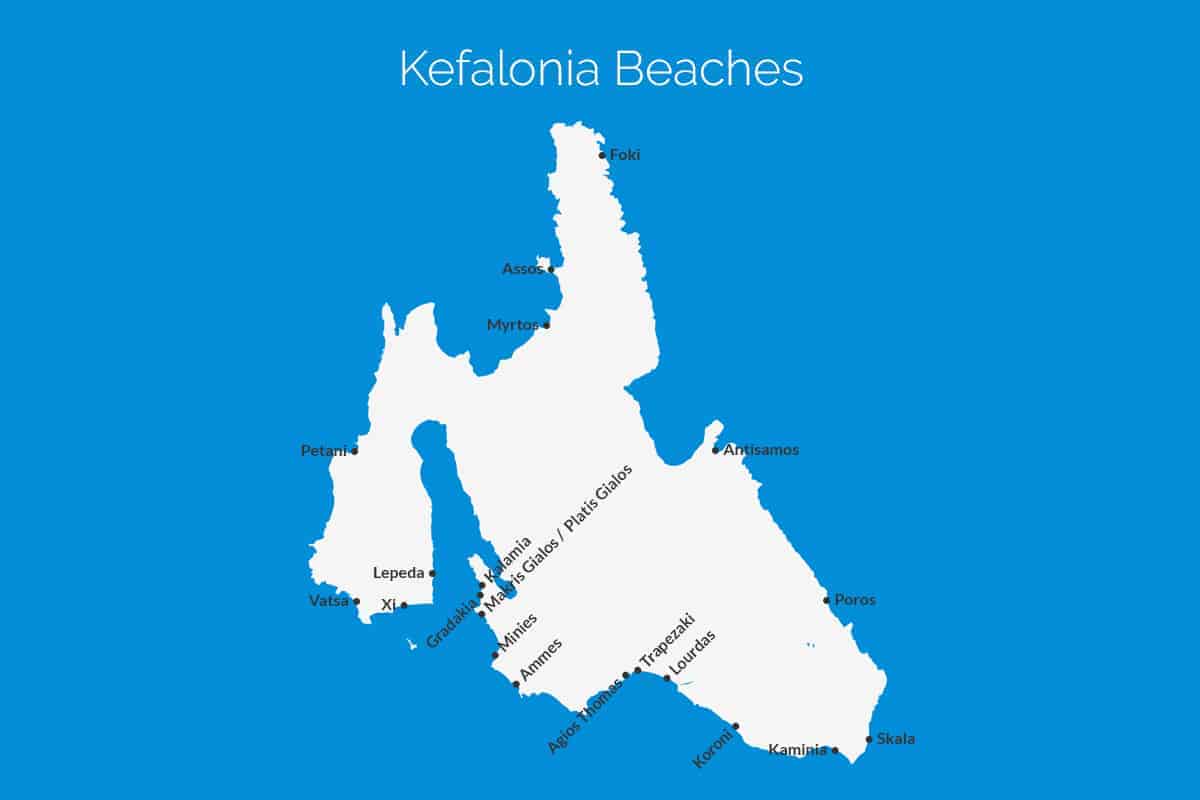 The Which Greek Island Kefalonia beach guide offers an in depth look at some of the best beaches in Kefalonia.
Tourist beaches in Kefalonia
The main tourist beaches are unsuprisingly based around the tourist resorts, those being Makris Gialos and Platis Gialos which are both close to Lassi as well as Skala beach and Lourdas. All of these beaches have great facilities and if you just want to spend a few hours at the beach, maybe try some water sports or simply top up your tan on the loungers whilst sipping a cold Mythos then these would be the perfect tourist beaches for you.
Secluded Kefalonia beaches
If you want to get away from the crowds of the above beaches then why not check out Koroni or Kaminia (Mounda). Both are found on the south west corner of Kefalonia island, both are easily comutable from Skala and both are free from the mass crowds.
Picturesque Beaches in Kefalonia
This ones easy, go and soak in the views at Myrtos, easily one of the most photogenic beaches in Greece with it's white pebbles and stunning turquoise waters you're sure to love it. Another option is Foki, it's another pebble beach but this ones surrounded by Olive trees giving a wonderful sense of isolation. Foki is up in the north of Kefalonia so a great option is to combine it with a visit to Fiskardo.
This is where Kefalonia excels, there's a wealth of good sandy beaches, the best of which are on the west coast, with the most popular ones been found at Lassi, Skala and Lourdas with quieter ones dotted about in between.
Pebble beaches in Kefalonia
For those that don't like getting covered in sand or simply prefer a pebble beach there are a number of good options and they are all around the north or north east of the island. Firstly, there's the obvious choice of Myrtos. There's also the huge Antisamos and tiny beaches of Foki or Assos.
Our full Kefalonia beach guide below shows all 20 of the main beaches on the island, including those mentioned above. If you already have an idea of the beaches you want to visit then you can click on the headings and be taken to a page that gives you the details about that beach, alternatively use the filters to get a list of beaches that would be ideal for your needs.
Filterable list of Kefalonia Beaches
Tell your friends and followers about Kefalonia
If you're going to Kefalonia or thinking about going then why not tell your friends about it using the links below? You never know what insights or advice they may have to offer.
Alternatively you could just show off about what a great trip you have planned.
We want Which Greek Island to be as accurate and informative as possible, so, if you notice anything wrong with this listing about the beaches in Kefalonia or any other page please let us know.
There may from time to time be places on an island that we've missed completely so if you see a town, village, beach or attraction that's not listed then please use the contact us page to let us know and we'll get it added to the site.
We're also on the lookout for great photos to show people what the places we're describing are like. If you have photos from any of Kefalonias beaches or from any of the other places on the site then we'd love to see them, simply click the button below to go to the photo upload page. Thanks.