About Santorini
Santorini is actually a small collection of islands formed from a single island where a volcanic eruption destroyed the middle and left the now semi circular main island of Thera the second largest island of Thirasia in the north west, 2 small islands in the center called Nea Kameni (the larger of the two) and Palea Kameni as well as the tiny island of Aspronisi in the south west below Thirasia. This kind of Geological formation is called a caldera and Greece has another island with a caldera, this is on Nisyros which is part of the Dodecanese group.
Santorini is in the southern Aegean sea, it is the most southern of the Cyclades group and has a unique character given to it by the volcanic rock that forms the islands. Santorini has many black sand beaches and also a red sand beach
When you think of picturesque Greek wtohite wash villages or multicoloured pastel villas perched on the mountainside you are thinking of Santorini, this is a gorgeous romantic island that should be on everyone's list of places to visit.
Getting to Santorini
Getting to Santorini is easy, it has it's own airport on Thira and there are regular flights throughout the summer from most major UK airports. Santorinis airport code is JTR and the flight time is about 4 hours.

Current Weather in Santorini
14°
clear sky
humidity: 54%
wind: 3m/s W
H 16 • L 15
Weather from OpenWeatherMap
Above is the current weather and the 5 day forecast. Below are the climate graphs, as Santorini is one of the more southern islands it is generally hotter and dryer than some of the more northerly Greek islands.

When to go
The best time to visit Santorini is from late April to early September, it rarely rains and sunshine is virtually guaranteed. If you like it really hot then July or August are your best months, it will likely be in the high 20s, you'll enjoy 13 or 14 hours of sunshine per day and only see an average of 1mm of rain all month so you won't need your brolly. It'll be slightly cooler in the months before or after but this can be perfect for some people, you still wont get much rain but the hotels and restaurants will be quieter.

Top 3 Resorts in Santorini
The best resorts on Santorini are probably Oia, Fira and Kamari. Both Oia and Fira offer a scenic, quiet and romantic break, usually enjoyed by couples, often honeymooners and time is spent relaxing with a glass of wine overlooking the caldera and watching the world go by.
The downside to these two resorts is the cost, they're two of the most expensive places to stay in the whole of Greece, especially if you want a hotel with views, You'll also struggle to find hotels with decent swimming pools, so if that's what you're looking for then the other side of the island is probably your best bet.
Which leads us on to Kamari, easily the most popular beach resort, out of the east coast away from the caldera you'll find it cheaper than the previous resorts and also easier to find hotels with swimming pools. Kamari has loads of choice for dinner as well as bars and even a couple of clubs to keep you entertained.
Full Santorini Resort Guide
These aren't the only resorts, some other great resorts are Imerovigli, Firostefani and Perissa, you can find out more about these and the other towns and villages on Santorini simply by clicking on the button below. The resort guide allows you to filter the resorts by features such as if it's on the beach, if it's quiet or lively or even if it's good for couples or families.
Santorini Resort Guide
If you're looking for a beach holiday then you are planning on visiting the wrong island. The best beaches are found on the east coast but even these are black sand and pebbles and have nothing on the beaches you'll find on other Greek islands. That's not to say they don't offer spectacular scenery and a pleasant atmosphere but if you want nice sandy beaches look elsewhere.
Top 3 beaches in Santorini
Although there aren't any soft golden sand beaches like in Skiathos, Thassos or Mykonos there are beaches with some unique and beautiful landscapes. We recommend a trip to these three beaches whilst in Santorini.
First is red beach, it's difficult to get to so we'd recommend a boat trip that stops here as it's easier than tackling the dodgy path to the beach but once there you'll be struck by the imposing red cliffs and the red and black stones of the beach make this a truly unique place and definitely worth a visit.
Then there's White beach, similar to red beach but in white, large cliffs surround the beach and make you feel secluded from the rest of the island Especially as it's inaccessible from the road meaning a boat trip is a must.
ni
Our third beach is the ever popular Perissa, this is the opposite in every way to the previous two, it's easy to get to, full of tourist facilities including water sports and perfect for kiddies so if you want a day on the beach then this is probably the place for you.
Santorini Beach Guide
Click the button below to be taken to our full beach guide where you can filter the list of beaches by things like if there is food and drink available, if there's water sports and many other options.
Santorini Beach Guide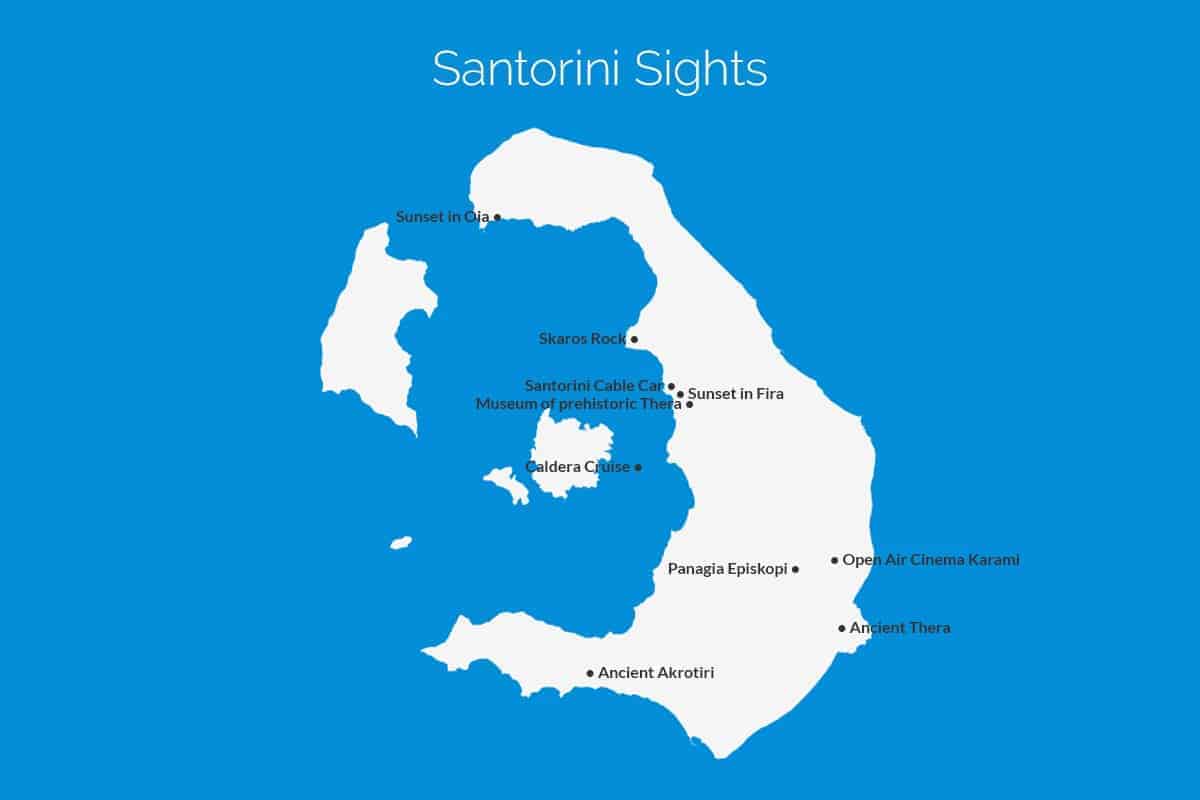 Santorini isn't just a place to have a nice meal and watch the sunset, it has many activities to keep you busy from ancient archaeological sites to museums
Top 3 attractions in Santorini
Our favorite things to do in Santorini are taking a trip to Ancient Akrotiri, which is a bronze age settlement that was destroyed by the earthquake of 1627 BC at which point the village was buried in volcanic ash and preserved in that state until excavation started in 1967, it's a fascinating place to visit and a must-see in our opinion.
Second is another archaeological site, Ancient Thera that sits 360m high up Messavouno mountain close to Kamari and Perissa. From here you can have a look round the ruins and enjoy breathtaking views over the island. Our advice is to not try this in the midday heat as there's a bit of a walk from the car park but if you can get there in the morning before it gets too hot or in the early evening then you wont be disappointed.
Lastly is the open air cinema in Kamari, there's something quite lovely about sitting out in the cool night air surrounded by lush green trees with a pint of Mythos or a local wine and enjoying a movie in the cozy atmosphere.
Santorini Sight Seeing Guide
There are more things to see and do in Santorini like enjoying a cruise around the Caldera and taking in some of the beaches on route or simply watching the sun set with a Caldera view, so to find out more click the button below to be taken to our full sight seeing guide where you can filter the list of excursions to find out what would be suitable for you and your tastes.
Santorini Sight Seeing Guide
Santorini Night Life
Santorini offers something for everyone as far as nightlife is concerned, from casual bars and restaurants to late night clubs but by far the most popular thing to do in the evening is to head to a restaurant or bar that has a caldera view and watch the sunset.
Throughout the island you'll find a plethora of bars offering local wine, cold Mythos, cocktails and a relaxed atmosphere. Some with entertainment like live traditional Greek music or karaoke on certain nights, look out for advertising boards outside for these events.
Most of the late night action takes place in the capital Fira but there are also clubs in Oia, Kamari and Perissa as well. There are many different flavours of club on the island, some playing Greek dance or Mediterranean style music and others playing more commercial dance, garage or house music. There is even a club in Fira playing Rock music for those that aren't into normal club style music but still want to enjoy a night out.

Tell your friends and followers about Santorini
If you're going to Santorini or thinking about going then why not tell your friends about it using the links below? You never know what insights or advice they may have to offer.
Alternatively you could just show off about what a great trip you have planned.
Partner sites relating to Santorini
If you'd like your site considered for this section then please use the
contact page
to get in touch with us.
More Related Content