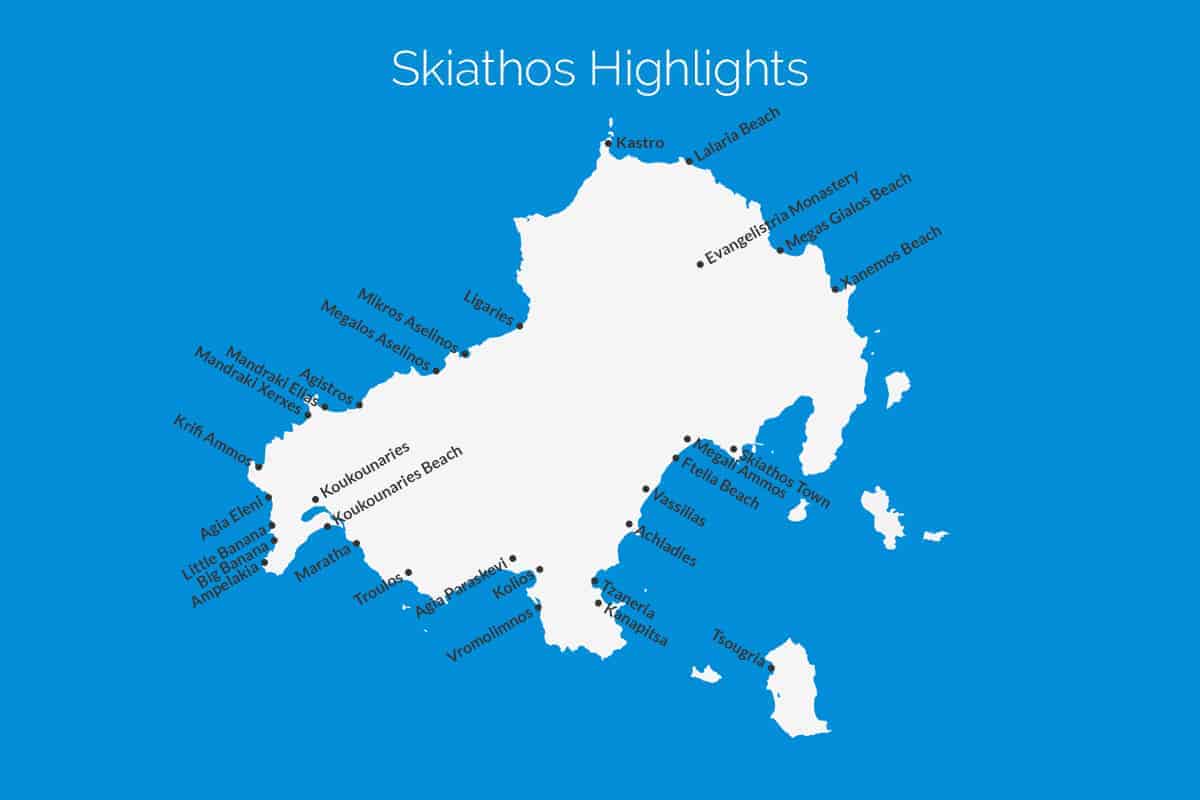 About Skiathos
Skiathos is a small island in the northwest Aegean Sea. It is the westernmost island in the Northern Sporades group, east of the Pelion peninsula in Magnesia on the mainland, and west of the island of Skopelos.
Skiathos is an enchanting island and I challenge anyone to go there and not fall in love with the place. You'll get lost in the cobbled streets of Skiathos town every day and every time you'll eventually find your way out to the harbour but you'll discover little hidden gems on your way.
The island boasts over 60 beautiful beaches, from the spectacular Koukounaries which was voted best beach in Greece to the more secluded Kalamaki, there is a beach to suit all tastes and almost all of them have a Taverna or two to get out of the sun for a minute and enjoy a refreshing pint of Mythos.
Skiathos is a lot greener than you might expect from a Greek island and a lot of the beaches are flanked by lush green hills making it one of the more naturally attractive islands. They don't call this the boomerang island for nothing, once you've been you'll definitely feel the urge to return.
Skiathos Airport
Many people worry about flying into Skiathos airport because it has a short runway, a slight slope and you come in low over the harbour. There are many videos on YouTube of people watching the planes come in and even getting blown back by the jet thrust as planes take off so close to the road but there really isn't anything to worry about.

Yes the runway is short so the breaking can be a bit harsh but it's not much different to any other airport landing, in fact if you can manage to get a window seat on the left side of the plane you will be treated to some amazing views of the harbour as you come in for landing.
The airport code is JSI and flight times from the UK are around 3 hours 30 minutes to 4 hours depending on your departure airport, you may find that certain flights have a quick stop over in Thessaloniki, this is usually because planes struggle to take off from Skiathos with enough fuel to get back to the UK so they stop at Thessaloniki to refuel and then make the trip back from there.

Skiathos Climate Info
Current Weather in Skiathos
13°
few clouds
humidity: 76%
wind: 6m/s NNE
H 16 • L 16
Weather from OpenWeatherMap
Above is the current weather and 5 day forecast for Skiathos and below are the average climate graphs. You can see the high, low and sea temperatures in the first graph, the average hours of sunshine per day on the second graph and the average rainfall per month on the last graph.
Best Time to visit Skiathos
The best time to visit is late August or early September, at this time of year the weather is still warm and the sea temperature is in the mid twenties, what more could you want. The mass crowds have died down a bit but it's still buzzing.

Our favourite Skiathos Resorts
The resorts in Skiathos are mainly based around the beaches with the obvious exception being Skiathos town that's built around the harbour. In our opinion the three best places to stay are Skiathos town if you like the nightlife, koukounaries and Troulos if you prefer something a bit quieter and to have easy access to the best beaches.
If you want to spend the evenings in the harbour enjoying the vibe of the bars and restaurants then staying in Skiathos town or Megali Ammos is your best bet as it's easy to walk in and back from your evenings out.
To find out more about these three resorts click the headings below to be taken to the pages for those towns and villages.
The other towns and villages on the island are quieter and more low key, probably best suited to those that want a relaxing break but as the island is so small you can still get to Skiathos town with ease if you want to visit for a night or two and experience all that the capital has to offer.
Click the button below to be taken to our full resort guide where you can find out more about the individual regions and filter the full list of resorts, towns and villages based on what you are looking for in a place to stay or visit.
Skiathos Resort Guide
Top 3 Skiathos Beaches
If you're looking for a beach holiday then you're in the right place. Skiathos has a wealth of gorgeous beaches from the large and popular Koukounaries to the small and quiet Maratha.
The best sandy beaches are on the south coast of the island, most of these offer good swimming conditions, many have tavernas selling food and drink and some even have music playing out over the beach to keep you entertained. Our favourites are…
For a more in depth look at the other beaches on the island simply click the button below to go to the full beach guide.
Skiathos Beach Guide
What to do in Skiathos
The main thing to do is sit back, relax and enjoy the surroundings, however, if you fancy doing something a little different then a trip to Kastro should be top of your list.
Click the button below to be taken to our Skiathos sight seeing guide, there's not much more to see but the list is filterable so it may help you to decide what to do.
Skiathos Sight Seeing Guide
Skiathos Night Life
The general nightlife is relaxed and revolves around the harbour in Skiathos Town. There are a number of bars with cosy cushions, sofas and even hammocks to sit and drink cocktails and watch the sun go down.
If you're looking for 18-30 then you're likely to be disappointed. There are a couple of "clubs" if you can call them that, they are more like bars with a dance floor rather than the proper clubs of Faliraki or Kavos. Outside of Skiathos town the night life is essentially a nice meal and a few drinks in the local tavernas, you might find some live Greek music or the odd bar with some dancing but don't count on it. If you're looking for a chilled out atmosphere to relax and enjoy the weather, scenery and company then there aren't many places on earth better than Skiathos.
Tell your friends and followers about Skiathos
If you're going to Skiathos or thinking about going then why not tell your friends about it using the links below? You never know what insights or advice they may have to offer.
Alternatively you could just show off about what a great trip you have planned.
Partner sites relating to Skiathos
If you'd like your site considered for this section then please use the
contact page
to get in touch with us.
More Related Content