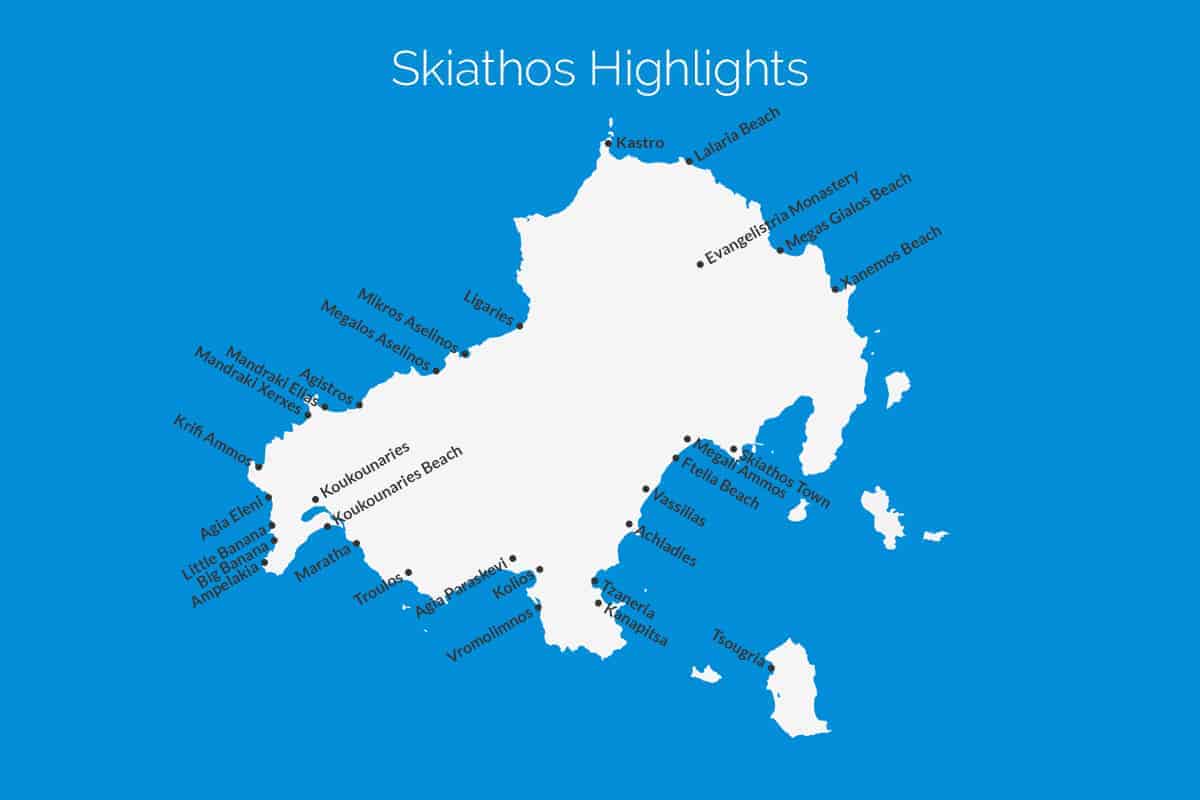 Skiathos is a small island in the northwest Aegean Sea. It is the westernmost island in the Northern Sporades group, east of the Pelion peninsula in Magnesia on the mainland, and west of the island of Skopelos.
Skiathos is an enchanting island and I challenge anyone to go there and not fall in love with the place. You'll get lost in the cobbled streets of Skiathos town every day and every time you'll eventually find your way out to the harbour but you'll discover little hidden gems on your way.
The island boasts over 60 beautiful beaches, from the spectacular Koukounaries which was voted best beach in Greece to the more secluded Kalamaki, there is a beach to suit all tastes and almost all of them have a Taverna or two to get out of the sun for a minute and enjoy a refreshing pint of Mythos.
Skiathos is a lot greener than you might expect from a Greek island and a lot of the beaches are flanked by lush green hills making it one of the more naturally attractive islands. They don't call this the boomerang island for nothing, once you've been you'll definitely feel the urge to return.
Skiathos is a popular destination for British travellers as the island has it's own international airport, the airport code is JSI, and the flight time from the UK is around 3½ hours. There are regular flights from most major UK airports but they aren't as frequent as they are to some of the more popular islands, As they're less frequent they tend to be a bit more expensive too.
Some people worry about flying into Skiathos airport because it has a short runway, a slight slope and you come in low over the harbour. There are many videos on YouTube of people watching the planes come in and even getting blown back by the jet thrust as planes take off so close to the road but there really isn't anything to worry about.
Yes the runway is short so the breaking can be a bit harsh but it's not much different to any other airport landing, in fact if you can manage to get a window seat on the left side of the plane you will be treated to some amazing views of the harbour as you come in for landing.
You may find that certain flights have a quick stop over in Thessaloniki, this is usually because planes struggle to take off from Skiathos with enough fuel to get back to the UK so they stop at Thessaloniki to refuel and then make the trip back from there.
Best time to visit Skiathos
Skiathos is a popular destination throughout the summer months from late April to early October. This is when the weather is hottest and you'll see less rain. Don't expect Skiathos to be as dry or hot as some of the more southerly Greek islands though. The peak of summer is when it's hotest and it regularly gets to around 30°c. If you prefer to go when it's not as crowded then outside of the school holidays is a must. Early September is a good choice as the sea has had all summer to warm up, the beaches aren't heaving with people and the temperature is still decent.
Skiathos is the number one choice for people that like sandy beaches, it has over 60 beaches. Many of which are soft golden sand. A lot of the beaches are well organised with loungers and water sports to keep youngsters entertained. There are however a bunch of quieter beaches, particularly on the northern coast.
Where to stay in Skiathos
There are basically two choices, Skiathos Town, for those that like the hustle and bustle of the main town with lots of evening entertainment and loads going on. The other is any one of the beach resorts, they all offer a far quieter evening and not much going on but these would be the preference for those that simply want to relax on the beach all day and then pop out for a meal and a couple of drinks.
The general nightlife is relaxed and revolves around the harbour in Skiathos Town. There are a number of bars with cosy cushions, sofas and even hammocks to sit and drink cocktails and watch the sun go down.
If you're looking for 18-30 then you're likely to be disappointed. There are a couple of "clubs" if you can call them that, they are more like bars with a dance floor rather than the proper clubs of Faliraki or Kavos. Outside of Skiathos town the night life is essentially a nice meal and a few drinks in the local tavernas, you might find some live Greek music or the odd bar with some dancing but don't count on it. If you're looking for a chilled out atmosphere to relax and enjoy the weather, scenery and company then there aren't many places on earth better than Skiathos.
[sc name="ads-under-image"]
Current Weather in Skiathos
Average Hours of Sunshine
[sc name="ads-under-image"]
The Skiathos resort guide has now been moved to it's own page. Click the button below to be taken to that page.
The Skiathos beach guide has now been moved to it's own page. Click the button below to be taken to that page.
The Skiathos sight seeing guide has now been moved to it's own page. Click the button below to be taken to that page.
[sc name="ads-under-image"]
If you have photos from Skiathos that you would like to share please use the form below to send them to us.
[sc name="ads-top-of-page"]
Tell your friends and followers about Skiathos
If you're going to Skiathos or thinking about going then why not tell your friends about it using the links below? You never know what insights or advice they may have to offer.
Alternatively you could just show off about what a great trip you have planned.
[sc name="ads-related-content-fff"]
We want Which Greek Island to be as accurate and informative as possible, so, if you notice anything wrong with this listing about Skiathos or any other page please let us know.
There may from time to time be places on an island that we've missed completely so if you see a town, village, beach or attraction that's not listed then please use the contact us page to let us know and we'll get it added to the site.
We're also on the lookout for great photos to show people what the places we're describing are like. If you have photos from Skiathos or from any of the other places on the site then we'd love to see them, simply click the button below to go to the photo upload page. Thanks.