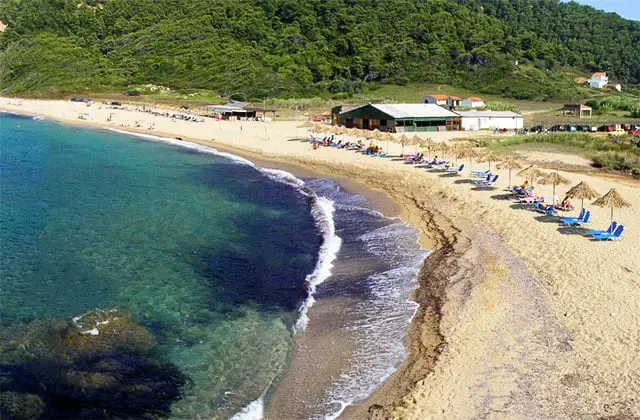 Megalos Aselinos Beach Skiathos
About Megalos Aselinos Beach
Megalos Aselinos beach is on the Northern side of Skiathos island. The beach is vast and sandy with sun loungers and a large taverna serving food, drinks and snacks all day. Megalos Aselinos is sometimes referred to as Big Aselinos or simply Aselinos as there's also a smaller Aselinos just round the corner. To find out more go to our Mikros Aselinos beach page.
Megalos Aselinos beach is a popular stop off for some of the boat trips that go round the island so expect it to be busy between 13.00 and 15.00 when the boats arrive and people flood to the restaurant for lunch. The rest of the time Megalos Aselinos is fairly quite.
Depending on which way the wind is coming from the sea can get quite choppy at Megalos Aselinos so it's perhaps not ideal for children on these days, there are no water sports to keep youngsters entertained either.
Megalos Aselinos beach is easy to get to if arriving by car and there is plenty of parking available. If you fancy the hour long walk then you can get the bus to stop 18 and then head north. Just remember your comfy shoes and bottle of water.
As with many of the northern beaches on Skiathos, Megalos Aselinos is sometimes used by naturists, they tend to stick to the right hand side of the beach as you look out to sea.
Quick look guide to Megalos Aselinos Beach
Where is Megalos Aselinos Beach
Reviews of Megalos Aselinos Beach
No Reviews yet
Unfortunately we don't have any reviews for Megalos Aselinos, if you've been, why not be the first.
If you would like to share your thoughts on Megalos Aselinos with our visitors then please fill in the form below to send them to us.
Megalos Aselinos Beach Hotel Search
Megalos Aselinos Beach Photo Gallery
If you have photos from Megalos Aselinos that you would like to share please use the form below to send them to us.
Go to the Skiathos resort guide to find out about the towns and villages on the island.
Find out about the best beaches in Skiathos including their locations on the island.
Go to the main Skiathos guide to find out more about this lovely Aegean island and what it has to offer the holiday maker
Find information on another Greek island, whether that's to hop from Skiathos on a day trip or to research an alternative destination.
Tell your friends and followers about Megalos Aselinos Beach
If you're going to Skiathos or thinking about going then why not tell your friends about it using the links below? You never know what insights or advice they may have to offer.
Alternatively you could just show off about what a great trip you have planned.
We want Which Greek Island to be as accurate and informative as possible, so, if you notice anything wrong with this listing about Megalos Aselinos or any other page please let us know.
There may from time to time be places on an island that we've missed completely so if you see a town, village, beach or attraction that's not listed then please use the contact us page to let us know and we'll get it added to the site.
We're also on the lookout for great photos to show people what the places we're describing are like. If you have photos from Megalos Aselinos or from any of the other places on the site then we'd love to see them, simply click the button below to go to the photo upload page. Thanks.