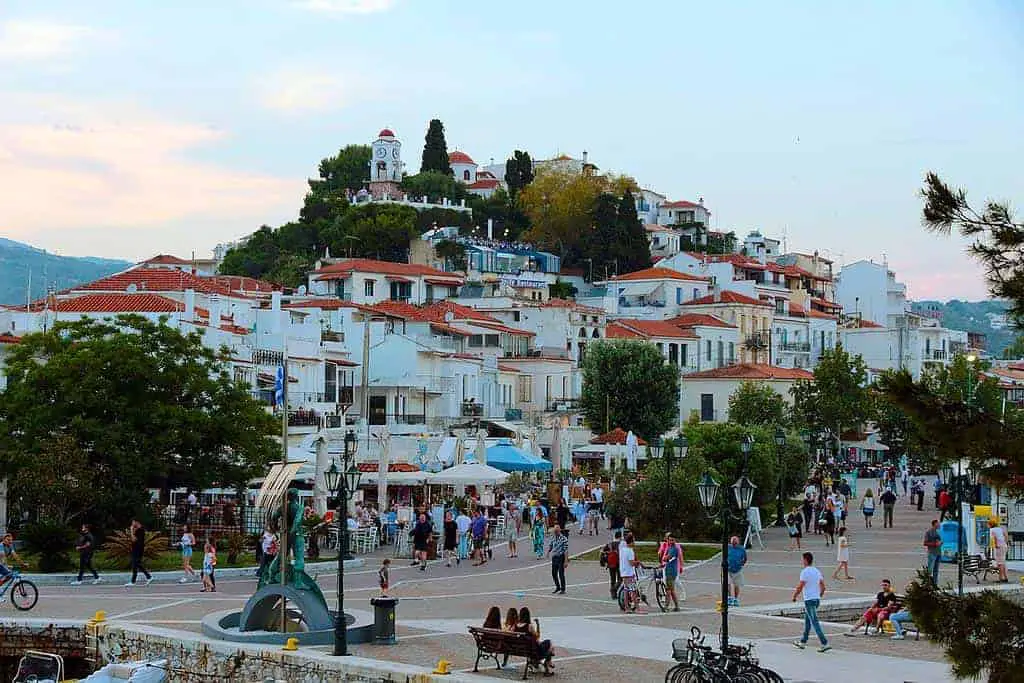 Skiathos Town or Chora is the main harbour for the island and capital of Skiathos. This will be the best place to stay for a lot of people travelling to Skiathos. It offers plenty of bars and restaurants for the evenings and is on the main road so it's easy to get from here to any of the other resorts, beaches or attractions that you want to visit.
There are no beaches in Skiathos town, Megali Ammos beach is the closest and is just a few minutes walk out of town so if you want a resort with a beach look elsewhere, although what it lacks in sand it makes up for in charm and character and you can always hire a car or get the bus to any number of the gorgeous beaches around the island.
In the town you'll find a wealth of restaurants, bars and tavernas, the most popular and expensive generally being those right on the harbour front or with the best sea views. The places that are slightly further back and lost in the cobbled streets will be cheaper and most likely offer a bit more authentic charm.
Skiathos town also has a couple of clubs to keep the party animals amongst you going well into the small hours, but for everyone else you'll probably find yourself enjoying a nice evening meal and watching the world go by with a cocktail, Mythos or a carafe of local wine.
Also in Skiathos town you'll find the Papadiamantis House Museum and the open air cinema.
Quick look guide to Skiathos Town
My wife and I absolutely loved our holiday to Skiathos, we stayed just outside the capital and walked in every night. It has a fantastic atmosphere, even in September when we went and there's loads to do and some gorgeous restaurants.

We loved it so much we're planning on going back for our 10 year anniversary in a couple of years time.
If you would like to share your thoughts on Skiathos Town with our visitors then please fill in the form below to send them to us.
Skiathos Town Hotel Search
Skiathos Town Photo Gallery
If you have photos from Skiathos Town that you would like to share please use the form below to send them to us.
Go to the Skiathos resort guide to find out about the towns and villages on the island.
Find out about the best beaches in Skiathos including their locations on the island.
Go to the main Skiathos guide to find out more about this lovely Aegean island and what it has to offer the holiday maker
Find information on another Greek island, whether that's to hop from Skiathos on a day trip or to research an alternative destination.
Tell your friends and followers about Skiathos Town
If you're going to Skiathos or thinking about going then why not tell your friends about it using the links below? You never know what insights or advice they may have to offer.
Alternatively you could just show off about what a great trip you have planned.
We want Which Greek Island to be as accurate and informative as possible, so, if you notice anything wrong with this listing about Skiathos Town or any other page please let us know.
There may from time to time be places on an island that we've missed completely so if you see a town, village, beach or attraction that's not listed then please use the contact us page to let us know and we'll get it added to the site.
We're also on the lookout for great photos to show people what the places we're describing are like. If you have photos from Skiathos Town or from any of the other places on the site then we'd love to see them, simply click the button below to go to the photo upload page. Thanks.