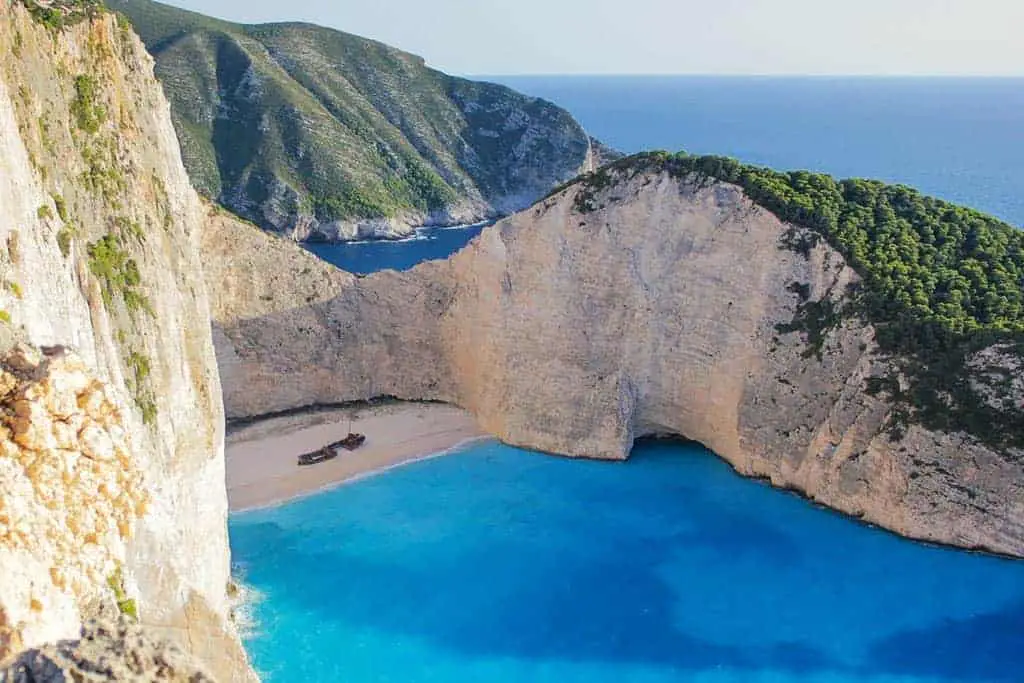 About Navagio Beach
Most tourists will get off the boat tour from one of the larger resort beaches on Zante Island, snap a quick shot of this admittedly postcard-worthy cove and move on, but for a truly special Zakynthos experience, plan to spend a little extra time at Navagio Beach, known colloquially as Shipwreck Beach or sometimes, Smugglers Cove.
Getting to this tucked away corner of the Zakynthos coast is easy with tours leaving from Alykes, Argassi and other beaches elsewhere on the island. Usually the cruises offered are a day trip out over the impossibly blue waters of the Ionian Sea to explore the legendary Blue Caves and stopping off at the shipwreck beach, you'll normally get a BBQ somewhere along the way and stop a few times to jump off the edge of the boat to cool off.
Shipwreck cove is a popular place for base jumpers, you'll find several videos on youtube of people running and jumping off the top of the cliffs here and there can't be many more spectacular places for this kind of activity.
[divider]
Navagio Beach Facilities
[one_fourth]
Popular beach.[/one_fourth]
[one_fourth]
Snorkeling site.[/one_fourth]
[divider]
Where is Navagio beach?
[custom_frame_right]

[/custom_frame_right]

[divider]
Tell your friends and followers about Navagio beach
If you're going to Zakynthos or thinking about going then why not tell your friends about it using the links below? You never know what insights or advice they may have to offer.
Alternatively you could just show off about what a great trip you have planned.
[clear]
[indeed-social-media sm_list='fb,tw,goo,pt,li,dg,tbr,su,vk,rd,dl,wb,xg,baidu,email,whatsapp,bufferapp,blogger,myspace,love_like,ok' sm_template='ism_template_19′ sm_list_align='horizontal' sm_display_counts='false' sm_display_full_name='true' box_align='center' ]
[divider]
Where next?
[divider]
Related Content
[divider]
Help Us Improve
We want Which Greek Island to be as accurate and informative as possible, so, if you notice anything wrong with this listing about Navagio Beach Zakynthos or any other page please let us know.
There may from time to time be places on an island that we've missed completely so if you see a town, village, beach or attraction that's not listed then please use the contact us page to let us know and we'll get it added to the site.
[flat_button text="Get in touch" title="Contact Us" url="/contact-us" class="contact-button" padding="14px 36px" bg_color="#038ED8" border_color="#038ED8" border_width="1px" text_color="#fff" text_size="14px" align="left" target="_self"] [divider]
We're also on the lookout for great photos to show people what the places we're describing are like. If you have photos from Navagio Beach Zakynthos or from any of the other places on the site then we'd love to see them, you can either use the button below to upload a photo of Navagio Beach Zakynthos or go to the photo upload page to send us some other photos.
[gravityform id="2"] [flat_button text="Send other Photos" title="Photo Upload" url="/photo-upload" class="contact-button" padding="14px 36px" bg_color="#038ED8" border_color="#038ED8" border_width="1px" text_color="#fff" text_size="14px" align="left" target="_self"]